April Fools has never been one of our favorite days, so you should know that the following statement is delivered with the utmost sincerity: Mercedes-Benz is going to build a pickup truck.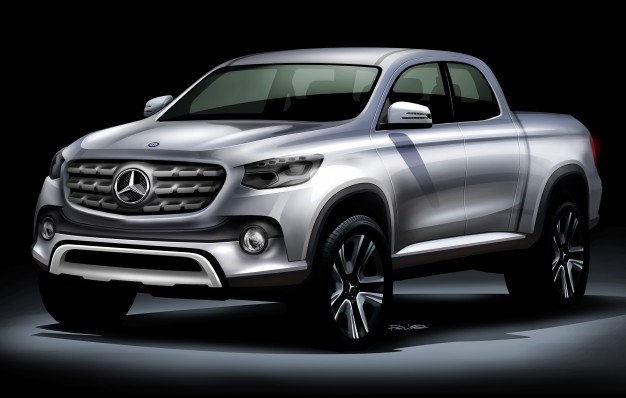 Of course it helps our sincerity that this announcement was made last Friday, but it's close enough that we want to remove all doubts. This plan comes as a result of careful examination of worldwide trends, which is to say pickup trucks are really popular.
If you still think that the world has gone completely mad, maybe it will make more sense when we tell you this truck is the project of the Mercedes-Benz Vans division, which has been posting international growth thanks to the Sprinter, and which is bringing the Metris Van to market in short order. Division leader Volker Mornhinweg says a pickup is the "ideal vehicle" to ensure continued growth in this sector.
The Mercedes-Benz truck is set to be completed by 2020 and will be sold basically everywhere but the United States. That at least is what the company has said so far. Clearly the advantage of an announcement like this is it lets Mercedes-Benz weigh reactions to the news and gauge interest. Five years is a long time. If enough of us pipe up and say "Hey, I think I wouldn't mind owning a Mercedes-Benz pickup," maybe they'll ship it our way, too.
It doesn't have a name yet, which makes it difficult to just casually name drop. "Mercedes-Benz pickup project" is just a bit too cumbersome. We're thinking of referring to it as the T-Class, though that doesn't really fall into the Vans division nomenclature. Those vehicles all have actual names, so it's much harder to guess which direction they'll go with it.
All in all, the company is optimistic about being the first premium brand to produce a pickup truck. They've certainly gotten our attention, and we'll be bringing you updates as they come. Until then, you can read more about the announcement on Car and Driver.
Mercedes-Benz of Cary is as ever proud to serve all customers in the Raleigh, Durham, and Cary area.
Mercedes-Benz Pickup Truck: It's Happening
was last modified:
April 9th, 2015
by