The puffy blanket of clouds suspended the sun's brightness, encouraging the breeze and spring-greenery to make a jacket seem almost necessary on this gauzy May day. The dealership we were headed to—Mercedes-Benz of Cary—sits at the bottom of a hill. There's a giant roundabout in front of it that's great for seeing how much grip your tires can afford before they give out and send you tumbling roughly onto its grassy shoulders.
Our assignment today as Leith writers is to test drive the 2014 ML350, a moderately hewn SUV that many people, under threat of buying a minivan, turn to when a sedan isn't roomy enough, and a Sprinter has too many seats.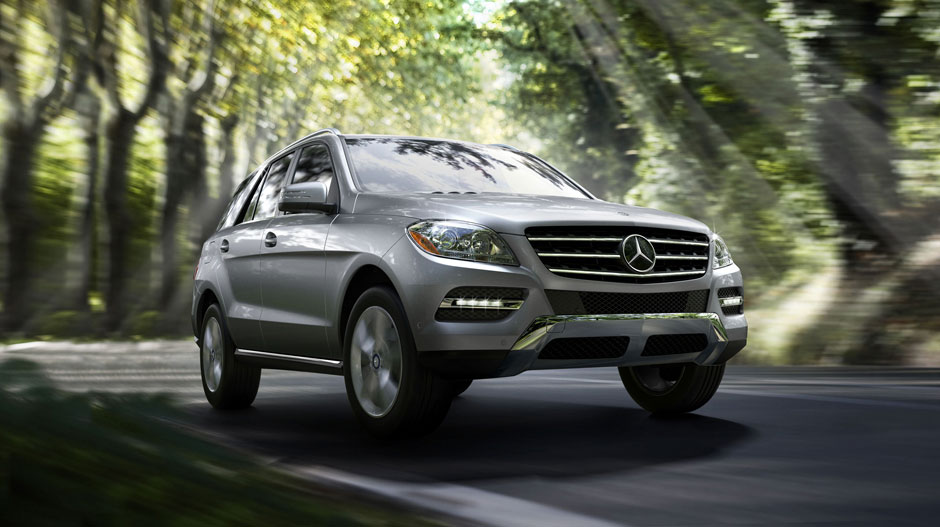 As we park out front and click open the doors to step once more under the almost-chilled sky, we look upward. It's a reflex to look up when it might rain, perhaps an old habit of trying to avoid storms, but the sky reveals no more than it did when we first drove over. Our business is to evaluate the ML350, the Mercedes-Benz SUV that used to be the entry-level choice until the GLK came out.
Our particular ML is a deep shade of lunar blue that almost looks like glass when you stand at a front corner and look down its side. If you found a pool of water in a cave, where only the most direct exposures of light would reveal the color in the water, it would look like this ML's blue.
The Sales & Leasing Consultant helping us today is Jonathan Glass. He brings the ML's keys and plates over for our drive. Jonathan is perfectly relaxed walking us around the ML to show its external features as it's what most of his day is about. He notes that oftentimes people want to take a look at different vehicles at their own pace, sometimes wanting to step into the showroom itself, and sometimes not (though that will likely change as we enter the summer!)
Far from pressuring its sales reps to get people looking over signing papers or hounding them across the lot, the culture at Mercedes-Benz of Cary assumes that people are at the dealership for a reason, and the staff's job is to facilitate that reason as helpfully as possible.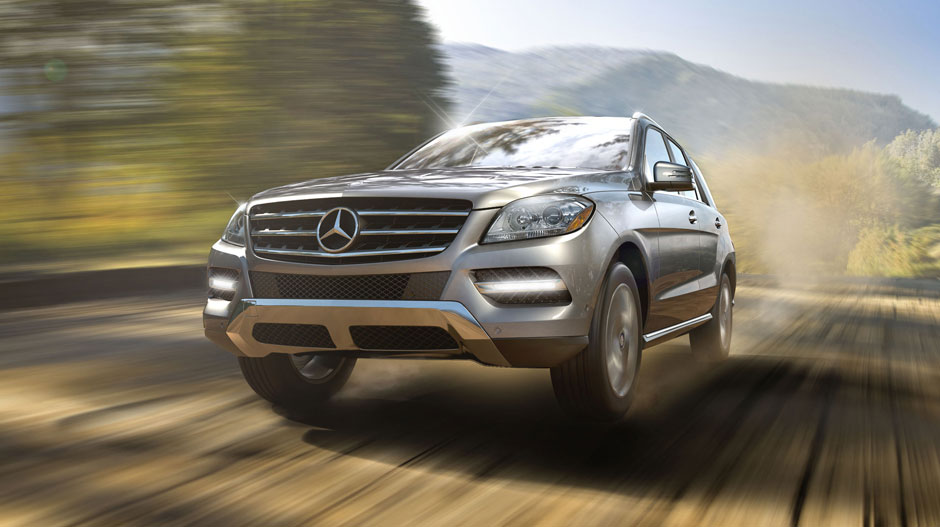 As we appraise the ML itself, Jonathan points out features that we wish our personal vehicle possessed: keyless entry and locking, LED side mirror indicators, powered rear door, rearview camera, surround view cameras for 360 degrees of vision, sensors for collision prevention systems and LED daytime running lights.
The underside of a car's hood is not terribly remarkable. No one puts on their bucket list, "Inspect as many car hoods as possible." Jonathan points out, however, that Mercedes-Benzes have three points at which the hood attaches to the car's frame. The benefit is greater safety if a collision happens. Similarly the engine has a thick, oversized seal—probably three or four inches tall—that affixes itself when the hood is down. The benefit of this seal is reduced noise in the cabin, as well as containment if a collision happens.
As we lower the hood down and feel its triple latches lock, Jonathan directs our attention to a water channel that leads off the hood, up the sides of the windshield and down the length of the roof's sides. Everyone driving in a rainstorm is familiar with the streaking droplets of water that glom onto the side windows to make their dawdling trek from front to back, like haphazard runners in a marathon. The ML's water channels make that race never happen. Instead the side windows stay dry and visibility is greatly improved. This is a feature that we've never encountered in another car before, which takes some saying these days. It make us wish for a rainstorm so we can see how our own car does.
The clouds of the morning make for a subdued driving experience. They stretch across the earth like a film of mosquito netting, soaking up rays of sunlight and threshing out the week's humidity until all that's left is a lightly settling powder of aloof, lukewarm air.
We take the passenger seat first as Jonathan demonstrates the auto-parking feature that draws people's looks, and often the attention of their smartphones. This is the famous parallel parking system that lets the car do all of the work and saves those of us who would rather circle the block than attempt a parallel situation. And true enough the system is good. Very good. The ML is a big car with excellent driving visibility, but not the best parking views from the front seat.
To improve visibility the ML has cameras and sensors—if you select Surround View System—that construct an aerial view of everything around you, as if you had a bird flying overhead with a camera. This makes parking super easy. But the auto-parking feature—called Parktronic—is completely automatic, somewhat scarily so. Just pull up next to the spot and let the ML do its thing.
With hands completely off the wheel, Jonathan let the car park us between two brand-new vehicles that would have cost a pretty penny if the Parktronic system erred. The ML nestled itself into the spot without hesitation, much to our amazement.
We take the opportunity to switch seats so that we can log some driving time, and experience control of the ML ourselves. Right away we note a feature that we've never seen in another vehicle of any class—roadster, coupe, sedan, wagon, van or SUV. Besides the standard heated and cooled seats (yawn) that are increasingly commonplace, the ML has heated and cooled cupholders.
Granted, this isn't exactly earth-shattering technology. Rather, it's something that every car should have, but shockingly none do (none, at least, that we've encountered). In this world of coffee everywhere, the ML is the only one that keeps your coffee warm. Or, If you just grabbed a frozen hot chocolate from Videri Chocolate Factory in downtown Raleigh, it keeps your drink cold without icing you and your passengers.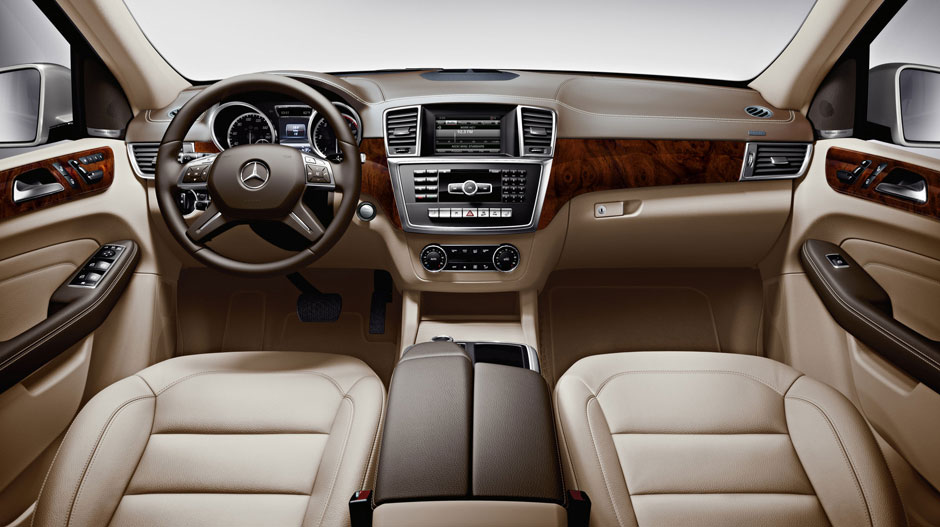 Driving the ML itself is like that moment when a plane lifts off the tarmac during takeoff. The first moment that you become weightless, and feel the vibrating surge of flight that makes the world fall away—it's a surreal moment. Noise falls away, too, and the world outside the windows starts to move much more quickly. It's the same houses, trees and office buildings that you see every day, but it looks different all of a sudden, doesn't it?
Similarly, the world changes when driving the ML. The doors lock into place, ambient noise is filtered out, a strong engine of power propels you to your destination, and the world beyond the windows looks the same, but different.
Granted, you have some features that a plane does not. The ML has radar technology just like a plane, but uses it to for adaptive cruise control, slowing or accelerating the vehicle depending on the flow of traffic with startlingly adept prowess, just like the Parktronic system.
While a plane drops oxygen masks in emergency conditions, the ML drops ceiling-to-floor side curtain airbags to completely ensconce occupants from outside debris. It's worth noting that some automakers' side curtains drop only to the bottom of the window, and leave exposed gaps. Mercedes-Benz believes it's important to use a solid wall of airbag protection.
If you're drowsy on a plane, the flight crew might offer you a blanket and pillow. The ML studies your driving habits via its ATTENTION ASSIST® program. If ATTENTION ASSIST® detects that you're getting sleepy, perhaps straying outside your lane, getting sluggish with your responses and going too fast or slow, the system will alert you to these signs and suggest taking a break for coffee. If the system activates late at night, like 3 a.m., it will be more insistent with its tone since you really might need the reminder then.
If you're waiting for a plane, it's reassuring to know exactly where it is and when it will arrive. The ML's mbrace® system lets you monitor its location, flash its lights remotely, lock/unlock its doors, and send/receive location all via smartphone or computer. You can have constant peace of mind no matter where you or your ML is. Or if you'd rather not receive notifications, you don't have to.
In all, the ML350 we drove blended the freedom of flight with the convenience of personal transportation. The details of craftsmanship, quality of tactile materials, extensiveness of safety, adroitness of performance and multitudinous computer systems coalesced into a driving experience that the Mercedes-Benz buyer expects from the brand.
We want to thank General Manager Peter Hampson for making the ML available to us, and Jonathan Glass for his generosity in time and thorough demonstration of the ML's many benefits.
ML350 Blends the Best in Automotives
was last modified:
April 17th, 2015
by