There's a blog called The Dictionary of Obscure Sorrows that's gained a following based on its ability to provide words for feelings that don't have names and for emotions too complex to summarize. The most popular and relatable definition from this dictionary is sonder, a word given to "the realization that each random passerby is living a life as vivid and complex as your own."
Even neologisms have etymologies. Sonder is also a German word, meaning "special." You are special in a way that is totally unique to you, but so is everyone else. As the main character of your own story, you will never comprehend the ways that each extra is special. You cannot know their characterization or their spark because they are only in the background as a face in the crowd or a set of headlights passing in the opposite lane. But you are the same to them.
In Sindelfingen, near Stuttgart, they make a car called the Sonderklasse. They say that it isn't their flagship – it's the industry's. They say that it is the epitome of their slogan, "The best or nothing." They, in this case, are Mercedes-Benz, and the car is better known the world over as the S-Class.
Dry Docked
We were once again in the company of our friend, Ryan Gury, and he had pulled a 2014 Mercedes-Benz S-Class out so that we could walk around and appreciate what we were looking at. It's a massive car, verily. The S-Class weighs in at three tons, but while awing over it, you won't find a scrap of flab. Six thousand pounds is actually lighter than previous iterations, and you can tell that the car was designed to look toned. Its presence is adamant, its posture forward, and its attitude confident.
"They call it 'the yacht look,'" said Ryan, pointing out the character lines that curve downward from the front, inverted compared to many other cars, including "the wedge" of the previous S-Class. On this car, everything points up to the prow, and it looks as though it could cut through waves as easily as it cuts through the airstream. Ryan told us that this is one of the most aerodynamic cars of its size, and just seeing it is enough to understand how.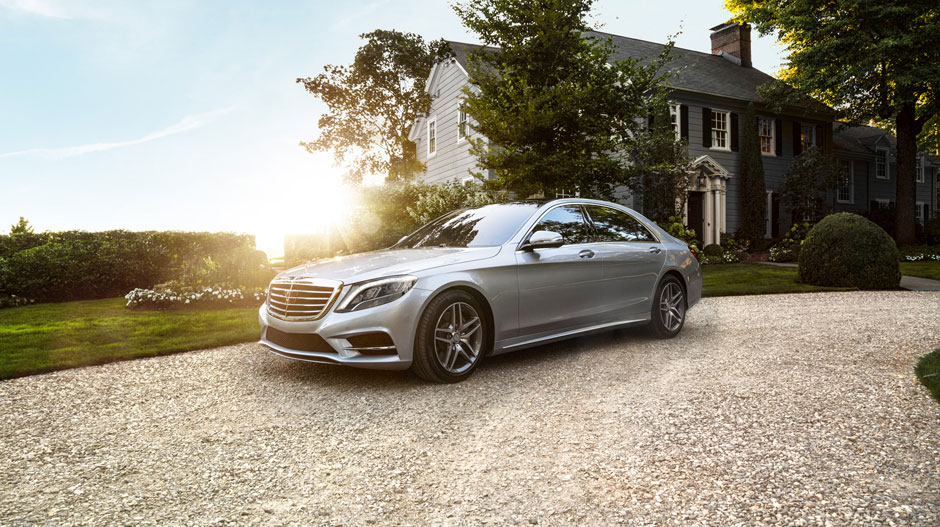 The bow is centered on an expansive chrome grille with an undercurrent of honeycombed air intakes. Full LED headlamps grace the front corners, rounding them out and lighting the way. The S-Class is the first ever car to use LEDs exclusively, on the exterior and the interior. Star-like, the lights of an S-Class will last longer than the car itself, and they also use less energy overall than alternatives. Finally, the bowsprit is capped by both a Mercedes-Benz medallion and hood ornament.
From the side, the S-Class already looks to be in motion even when it's at a standstill. Eighteen inch wheels are the smallest you can get, and there are a number of hubcap styles to choose from as well. Ryan told us that Mercedes-Benz already had the most efficient and aerodynamic side mirrors and they were originally going to put them on this car, but the engineers were told to start over and make new ones. Now these mirrors are the new standard. They're large, but they sit out from the door, and the attachment to the a-pillar flag has been whittled down to reduce turbulence passing the window.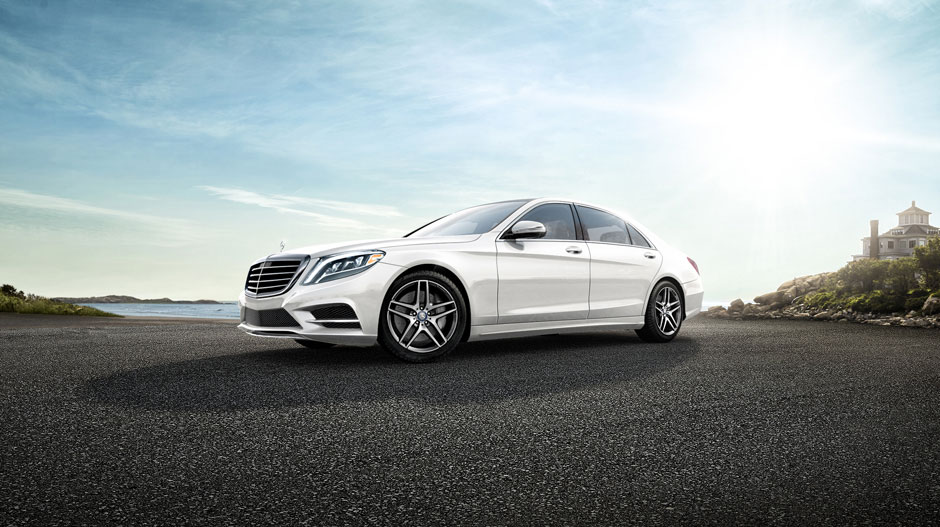 The strong shoulders roll back and converge on the trailing edge of the roofline at the vessel's stern. Ryan told us that the most notable features of the rear are the taillights. In most other cars, even most other Mercedes-Benz models, the taillights are split over or edged right up to the trunk hatch. The S-Class's three-tiered lights are separate from the liftgate and set in high-strength steel. The effect is three fold: these taillights make for safer construction, a more aerodynamic final curve, and the most recognizable back end on the road. LED technology also assists brake lights by making them illuminate faster, thus giving cars behind you more time to stop.
We took a brief peak into the S-Class's cavernous trunk. There's no need for a spare thanks to Mercedes-Benz all-season runflat tires, so the storage compartment underneath is totally free. The golf club indents on either side seem superfluous given how much space you're afforded, so we wouldn't be surprised if you could fit everyone's clubs in the trunk.
The S-Class is a special car in the aesthetic arena, but looks aren't enough to set it apart. The Titanic was a marvel of its time, renowned for its size and grandeur, yet on the open seas it didn't quite live up to expectations. To get a true measure of Mercedes-Benz's flagship, we had to take it sailing.
Anchors Aweigh

Ryan took the first turn at the wheel, casting off from Mercedes-Benz of Cary and ferrying us out of the auto park.
Instantly, we could feel something different in the way the car rides. "Is our seat moving when we take a turn?"
"Do you feel it?" asked Ryan. "That's the Active Multicontour Seating kicking in." Sure enough, as we rounded a bend, the side bolster of our seat extended to steady us. He also wanted us to notice that although the leather upholstering of the seat was very soft, the seat itself was quite firm, instituting good posture and greater comfort. We were also made to understand that leather wasn't even the highest quality available.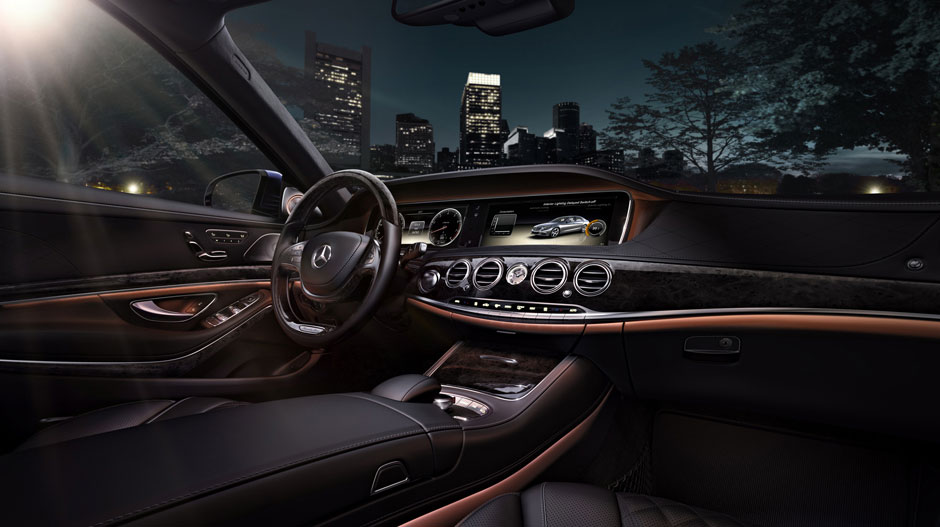 The "yacht look" continues inside the S-Class. Compared to many of the tech-saturated cars on the road these days, this one seems to have a sparser interior. In reality, it's just well concealed. Every surface is covered in a luxury material. Soft leather inserts are most visible, offset by Burl Walnut wood inlays – again, the base option there. Where you would find plastics on other cars, you'll find polished aluminum in an S-Class.
The dashboard demonstrates the beauty of simplicity. There are four round air-vents and a time-piece in the middle of the center-stack, and climate control buttons fit just below them. For display, Mercedes-Benz has mounted two side-by-side 12.3-inch LCD screens, one for the digital instrument cluster and one for the multimedia and car systems. These are interfaced via buttons on the steering wheel or a central controller in front of the center arm rest. There's even a pedestal to rest your wrist on when using the scroll wheel.
Suppose you don't want to scroll through the various options to find what you need while you're driving, though. Ryan was barely exaggerating when he said the car has nine-hundred menus. Concealed within the wrist rest is a touch-sensitive number pad. You can put your finger on a key without pushing it to bring up an overlay of the number pad on the info screen, and the number you're touching will be illuminated. This way you don't have to look down to see what button you're pushing. The S-Class also has ninety-nine presets that can correspond to anything, so instead of hunting for the radio station you want, you can just enter your preset, or enter the number of the station manually. This car aims to serve you.
The vehicle lends itself to listing, which we sorely want to resist doing. We can tell you that both front seats are 16-way power-adjustable. They have standard heating. They also have available ventilation. It isn't cooling because that's not safe. Instead of adding cool air, Mercedes-Benz subtracts hot air. If you so desire, there's a package that makes every surface you touch heated. That means extra heating surfaces in the seat, heating in the armrests, and heating in the steering wheel, and they all heat up faster than the same surfaces in another car would.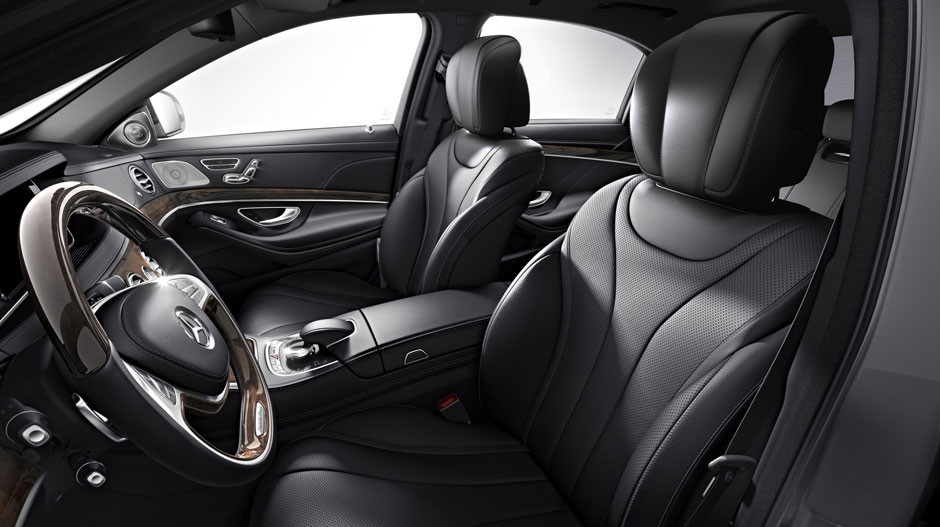 We can tell you that the center armrest opens up from the passenger and driver sides, a defiance of physics that we still haven't wrapped our head around. Inside there's storage and inputs for an Apple or Android device. Of course there's Bluetooth. There's a CD player hidden in a compartment below the climate controls. If you don't want to see the CD player you can flip up another hatch below that to reveal your cupholders. If you want them to, there's an option to have those cupholders heat or cool your beverage.
We can tell you that there's an optional cabin purification system that will ionize the air you breathe and add a fragrance of your choosing. There are two sunroofs, and the rear seat passengers have full control over their own. There's a powered rear sunshade and an option for the rear seats to recline with a footrest. The S-Class features 590-watt Burmester surround sound speakers with aluminum coverings. They play the best music your ears will ever hear if you want to hear it. Otherwise you can control whether they play in the front or in the back, and there's even an option to control if they play for a specific passenger.
We can tell you these things because Ryan told us about them, and we realized at one point that we weren't on any prescribed test-drive route. He was driving us down Route 1, going on and on about all of these features, willing to drive as far as it took for us to understand that this car was special in ways that no other car is. We can tell you all of these things and more about the S-Class, but what we really want to tell you about is how the car drives.
At the Helm
Ryan pulled off at an exit to let us switch over. Once we had everything adjusted, we accelerated down the on-ramp, heading back the way we came. We merged into traffic and shifted over to the far lane, at which point we checked the speedometer and said, "Oh, we're going [too fast]." Ryan laughed.
You remember we said this was a beast of a car, a real heavyweight contender if ever there was one, but we never said it was slow. The S-Class sports a 4.6-liter biturbo V-8 engine that makes 449 horsepower and 516 foot-pounds of torque. We aren't sure how fast that would make a boat go on water, but on dry land it makes this car go fast.
Even though it can go fast, that isn't really what the S-Class is about. Of course there's an S63 AMG® version of this sedan, but we were in the S550. It's all about cruising, so Ryan showed us how to put it in cruise control.
With the Driver Assistance Package, the S-Class is equipped with two front-facing cameras mounted over the windshield and three radar systems. We set the car to cruise at 75 mph and then… took our foot off the pedals.
The S-Class is the first car we've driven that makes us feel unnecessary.
It's able to track the cars in front of and around you, so if a car merges in front of you in the lane, it will slow down and follow at a safe distance. When the lane clears, it then speeds back up to 75 mph, or whatever you have the cruise control set to. The car can come to a complete stop if necessary and then start going again, all without any input from you. You can adjust your cruising speed up or down in 1 or 5 mph increments.
This system, known as DISTRONIC PLUS®, will also steer the car for you, keeping it within the lane, even on a curve. You have to keep one hand on the steering wheel or else the car will know you're being more lax than is safe to do so, but it's ok to let your wrists go limp and let it take the helm.
You shouldn't be surprised to know that Driver Assistance Package also functions as a collision prevention system. It will stop the car if it detects another vehicle coming to a halt in front of you and can even detect pedestrians in a city environment. Furthermore, the car will stop quickly enough to avoid a collision, but not so quickly that you get rear-ended by the traffic behind you. The S-Class will not only keep you out of an accident, it can prevent the cars around you from causing one.
The front cameras also play a role in governing the S-Class's suspension and MAGIC BODY CONTROL®. They can detect potholes and other bumps in the road, pre-tune the suspension, and eliminate chop as you pass over it so that you barely notice. All of this lends itself to the quietest ride you'll experience, too.
We didn't let the car do all its own driving. Let us attest to the superior steering, the effortless acceleration, and the serene braking of this vessel. Ryan informed us that the car can learn how you drive. It can pick up on your acceleration and braking habits, and if you move your foot quick enough from the gas to the brake pedal, it will detect that you're making an emergency stop and give you one hundred percent braking power at that instant.
Upon returning to our port of call, we dropped anchor in front of the dealership and stared at the reflection of the car. No doubt there is a word for the sorrow of stopping, that pause at the end of a voyage before you set foot on dry land, and the longing to return to the sea in that same instant. If there isn't, there should be.
Seaworthy
Ryan was still talking long after we had stopped the car. We were still sitting in the driver's seat, getting a heated shoulder massage – one of six available in the settings. He was telling us about the course that Mercedes-Benz gives to people that buy this car. The day you drive it off the lot, they show you how to pair your phone and how to get home, but then they invite you back the next day for another two hours so you can learn the more extensive features.
To confess, we were absorbing the information, but we were thinking more about how Ryan Gury is one of a kind. There we were, sitting in a Mercedes-Benz S-Class, reclining in our seat while he's sitting up, forward and earnest. We could tell he knew everything by heart, and if you've read our other test-drive reviews featuring Ryan, you know he's like this with every car. He loves these cars so much that we can imagine he would do his job for free. Consider yourself lucky if he wanders into your life as a supporting character.
The 2014 Mercedes-Benz S-Class is not like other cars. It is incredible in the way that people are, and unique in the same way that no two of us are truly alike. There is something ineluctably human about an S-Class. It comes from the way that the designers and the engineers put themselves into the car when they build it. It comes from the manner in which you put yourself into the car when you drive it. It comes from the way it is in its own right. When you're driving the S-Class down the road and you have that realization that the other people around you are living their own exciting lives, remember that they aren't driving a car nearly as vivid and complex as your own. Know that although you might only be a blur of traffic passing them on the highway, they're missing out on something truly special.
We want to thank Mercedes-Benz of Cary for making our test-drive possible, and we want to thank Ryan Gury for all his time, knowledge, and passion.
Test Drive Tuesday: 2014 Mercedes-Benz S550
was last modified:
April 30th, 2015
by